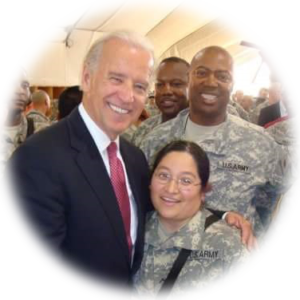 We are inspired by the women in our lives, our mothers, sisters, daughters, friends and the trailblazers who paved the way. They have all made it possible for this generation and those that will follow, to walk in their footsteps and blaze new trails. Sister Soldiers, Inc. is a 501C3 Non-Profit community organization committed to providing assistance to female military personnel, active duty and veterans, with the transitioning process of going from military to non-military (civilian) life by offering educational resources; community awareness; housing and relocation assistance; and job placement; career guidance; counseling and support services.
Our purpose is to reach & support the financially, physically & or mentally needy female U.S. Military veterans & active duty personnel (along with their families) that have been negatively impacted by their service in transitioning through the process of military life to civilian life.
Support a professional environment through sharing information, assistance and expertise when and where it is needed.
Allowing her to Envision herself becoming the person that her family, friends and co-workers see as a good wife, mom, grandmother, and friend; steadfast, loving, patient, caring, and supportive.
Educate allowing each to utilize the learned resources from the military and help create room for growth to become a productive part of society not just for herself but the community as a whole.
Personal Development stresses the development of every woman's mind, spirit, and body for a balanced life. Through personal development, she will help to strengthen the character of our communities while becoming the gift that God has inspired her to become.
Empowerment will enable her to take action to improve her life through positions of considerable power, particularly where decisions are being made on her behalf or that of her family and if needed, allowing various interventions to come into her life.